1) Find how much space you need and book a storage unit. You can book and sign online, or visit one of our stores.
Go to the storage facility
2) Transport your belongings to the storage facility. We have easy access for offloading, and you can borrow trolleys to get your belongings into your storage unit
3) Lock your storage unit with the padlock you find inside it, and store your belongings safely until you need them again. Only you have access to your storage unit.
It is easy to order online and get access the same day
You often need less space than you think. We have made a size estimator who will estimate what storage size you will need.
Storage experts on phone and chat
Some of our storage-facilities have a connected store, and this is where you will find our experts on storage solutions. They can help you find the right storage size for you, and with any questions, you may have. In addition to the stores, you can contact us from Monday to Sunday on our chat, the phone, or on email. The storage facility is open from 6 a.m. to 11 p.m. every day throughout the year. Contact us for more information.
You can visit one of our ten shops and rent a storage unit there if you prefer. You will get guidance from one of our experts on storage solutions. You can also get a personal guided tour before you rent, to get a better grasp of how our different storage sizes look.
The moving supplies you need
We have a big selection of moving supplies of high quality in our shops. Stop by one of our shops for a nice chat and help to find the moving supplies you need!
We rent out equipment that can come in handy during your move. You can rent moving straps, stair trolleys, or sack trolleys in our stores. Contact the shop you want to rent fro for information about price and availability.
Welcome to us!
Move your belongings to the storage
After you rent a storage unit
When you have rented a storage unit you have access every day throughout the year. You have full privacy in your storage room, and only you have access to it. The opening hours of the storage facilities are 6 a.m to 11 p.m. When you sign a contract with us, you receive a personal access code that gives you access to the facility, and your storage unit is locked with a padlock only you have the keys to.
We have collaborations with Hyre, Freetrailer, and the moving company HMH Home Management. Get a discount when renting a van, rent of trailers or when you need a moving company. Contact us for information about our collaborators. When you arrive at the storage facility we have trolleys that you can use to transport your belongings into your storage unit.
Do you have any questions?
What storage size do you need?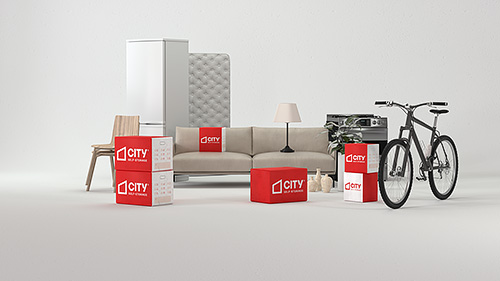 How big a warehouse do you need?
Your living space 50m2
Many benefits when renting with us
Our storage facilities have video surveillance and are connected to an alarm 24/7. You can trust us to store your belongings safely.
City Self-Storage has storage facilities in several cities, and you can find us in central locations with easy access from the road.
You can easily change rooms as your storage needs are changing. Contact us if you need more or less space, and we will help you.
All of our self-storage facilities are temperate. The storage conditions are optimal for storing furniture and other belongings.
This is how you open the code lock
Come by your nearest shop or order online